What's the best way to travel to Papua?
Words and photos by Marc Weiglein
YOU TRAVEL TO PAPUA BY PLANE
Flying is the easiest and fastest way to travel to Papua. Another possibility would be by ferry, but the savings are rather small and are not in any relation to the additional time and effort. So, unless you plan to bring a car or two horses to Papua, flying is the most convenient way to travel.
All airports in Papua are only served by domestic flights. This means that the entry point into Indonesia must be at one of Indonesia's international airports from where you continue on a domestic flight to Papua.
The Indonesian hubs in Jakarta and Denpasar (Bali) are particularly suitable for entering Indonesia and onward travel to Papua. Most of our customers choose to travel via Denpasar, Bali. As Bali is a tourist hotspot, there are often good and cheap international flights.
At which airport should I arrive in Papua?
There are three airports in Papua which are suitable as starting points for most travel destinations: the airports of Jayapura, Timika and Sorong. The best arrival airport depends on your further travel plans.
Jayapura Airport (airport code: DJJ) is suitable for travelling to the Baliem Valley but also to the Korowai and to the Asmat.
Timika Airport (airport code: TIM) is suitable for reaching the Carstensz Pyramid and travel to the Asmat.
Sorong Airport (airport code: SOQ) is suitable for trips to Raja Ampat.
When arriving at these airports, it is often necessary to continue the journey to the final destination by plane, boat or vehicle. We take care of this last part of the journey.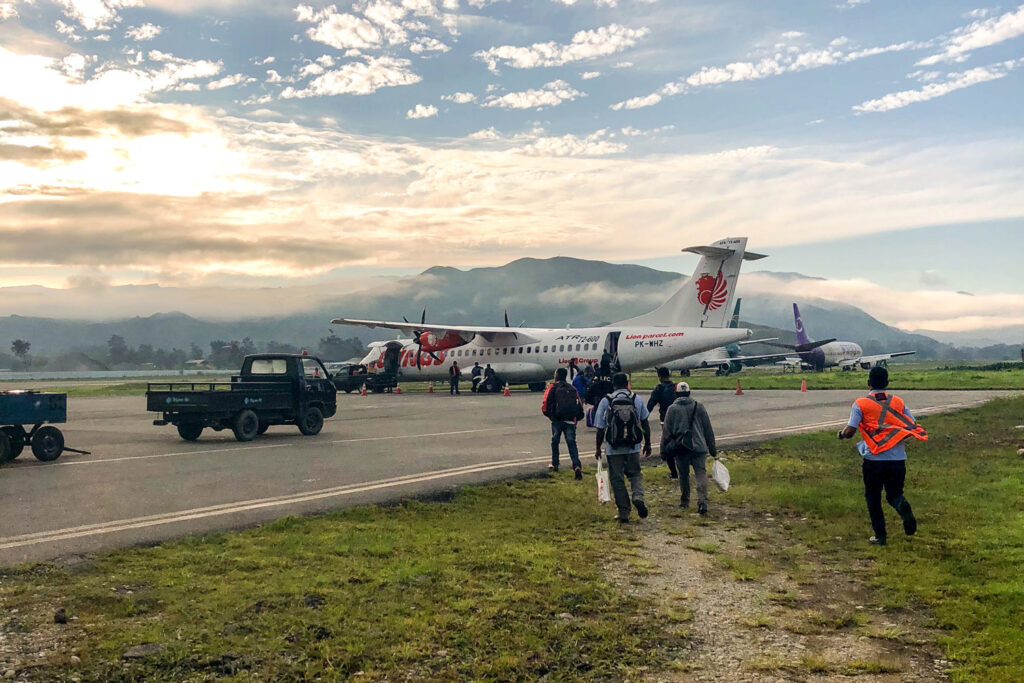 WHICH AIRLINE SHOULD I FLY WITH IN INDONESIA?
For domestic flights in Indonesia we recommend Garuda Indonesia. The state airline offers the best service, has modern aircraft and well-trained pilots, and is usually on-time. Although the quality has decreased a bit in the last years, we still follow the principle: If a route is served by Garuda Indonesia, we book Garuda Indonesia.
But Garuda Indonesia is also often a more expensive option and not every connection is offered by the company.
What are alternative airlines for domestic flights in Indonesia?
Other airlines flying to destinations in Papua include Lion Air, Batik Air and Sriwijaya Air.
Batik Air is also a full-service airline and therefore a good alternative to Garuda.
Sriwijaya Air is a medium service airline. Tickets are usually a bit cheaper but the service on board is limited and there may be additional costs for checked baggage.
Both Batik Air and Sriwijaya Air achieve good punctuality ratings.
Lion Air is the largest airline in Indonesia and flies to many destinations. Lion Air is a low-cost carrier. There is no service on board, many services are charged extra and punctuality is not very good. Delays of 1-2 hours are not uncommon and should be planned for.
Wings Air and Trigana Air are the two airlines that operate the route from Jayapura to Wamena. Wings Air has the newer planes and usually flies twice a day. Trigana Air flies up to four times daily and has shown a higher reliability in the past, with fewer cancellations. Tickets for these airlines are difficult to book online. For this reason, we usually handle the ticketing for this route and one of our staff members will then also help with the somewhat chaotic check-in procedures.
None of the airlines mentioned are currently on the EU blacklist for dangerous airlines.