What to bring, what to prepare
Words and photos by Marc Weiglein
CHOOSE THE RIGHT CASE FOR YOUR TRIP TO PAPUA
Hard-shell cases offer more protection for items such as cameras or laptops. Carrier bags and backpacks, on the other hand, often have expandable compartments, are lighter and easier to carry. As a rule of thumb: the more your are going to walk, the more "portable" your luggage should be.
Even if you don't carry your luggage yourself after all, a hard-shell case has major disadvantages on a trek lasting several days and can also be damaged more easily. For longer treks we therefore recommend a backpack or carrying bag. If you are planning a trip without several days of trekking, you can also travel comfortably with a hard-shell case.
THINK IN LAYERS FOR CLOTHING
What clothes should I pack for my trip to Papua?
When you travel in Papua, temperatures can vary greatly depending on the region and time of day. Our blog entry about the weather in Papua gives a good overview.
You should think in loose layers that you can easily take off and put on again.
We recommend a light, casual wardrobe made of loose-fitting, natural fabrics such as linen or cotton. Clothing should be comfortable and rather "conservative". Avoid short, tight or revealing clothing. Long sleeves and trousers not only protect against the strong sun, but are also a good defense against mosquitoes. Do not forget: the islands, coasts and lowlands of Papua are malaria areas.
A light rain jacket or a poncho should be taken with you on every trip, as rain showers can occur anytime and anywhere. If you plan to travel in the highlands of Papua, you should also pack a fleece or wool sweater.
THE RIGHT SHOES FOR YOUR TRIP TO PAPUA
For more relaxed tours to Raja Ampat or easy hikes in the Baliem Valley no special footwear is necessary. Wear light, comfortable trainers or hiking sandals. You should also pack a pair of sandals or flip-flops.
For real trekking tours in Papua, rubber boots are often the best footwear. Be it in the swampy tropical forest of the Korowai, or in the muddy high savannahs on the way to the Carstensz Pyramid: rubber boots are the most reliable protection against wetness and mud (and against snake bites) and are often the recommended footwear.
INDIVIDUAL SUPPORT AND ADVICE
The land is big and there are no limits to the adventure in Papua. Accordingly, the recommendations for clothing, shoes and other equipment can vary. Depending on the type and destination of the trip in Papua, our customers will therefore receive a checklist with suitable recommendations before their Papuan adventure.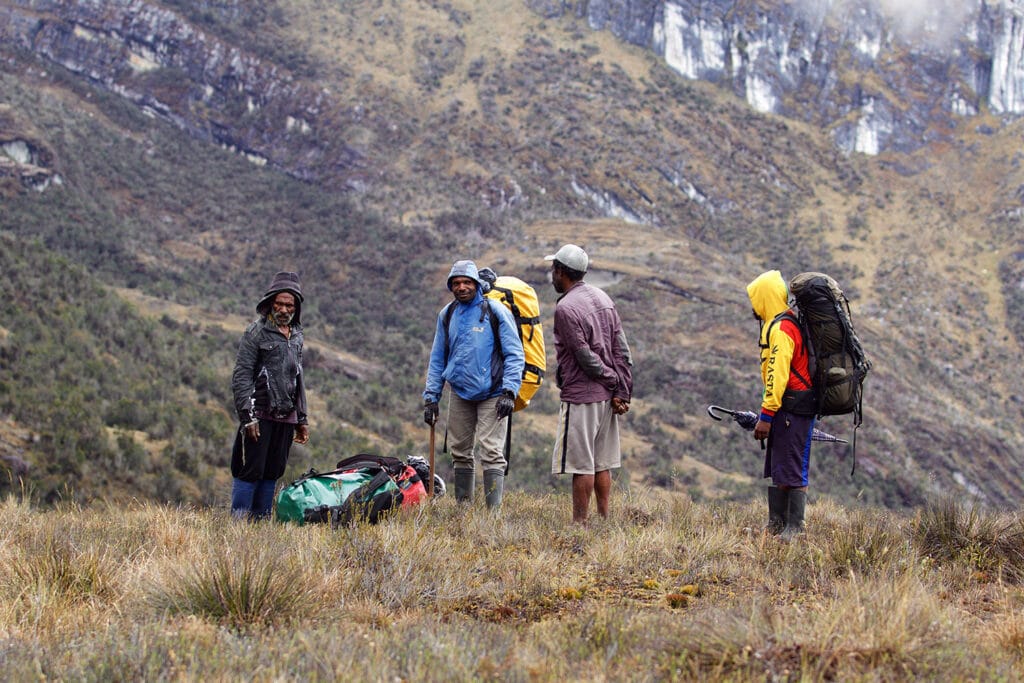 HEALTH IN PAPUA
For entering Indonesia and Papua, vaccinations are not mandatory. However, you should have the common vaccinations. Additional vaccinations against rabies or encephalitis are recommended, but not necessary.
The medical care in Papua is not comparable to our standards. Especially in remote areas there is little or no medical care. If you need to take medications on a regular basis, please bring a sufficient supply with you. For acute illnesses a small travel pharmacy is recommended.
MALARIA IN PAPUA
The islands and the lowlands of Papua are malaria areas. When travelling to these areas you should consider taking prophylaxis. There are never many mosquitoes, but as you know one bite is enough. Malarone is the most common malaria prophylaxis nowadays. It is usually well tolerated and is also already available as inexpensive generic medication.
The best way to avoid malaria in Papua and other diseases transmitted by mosquitoes is to wear long clothes, especially in the evening. If you additionally spray the uncovered skin areas on the hands and neck with anti-mosquito spray, you are very well protected, and prophylaxis is then usually no longer necessary.
MONEY AND PAYMENTS IN PAPUA
Papua and West Papua are Indonesian provinces and as such the Indonesian Rupiah (IDR) is the currency here. In Papua and West Papua it is usually not possible to pay with foreign currency or credit card. Exceptions are some resorts in Raja Ampat and hotels in the larger coastal towns. Expect to have to make most of your payments in cash in local currency and take enough cash with you. In larger towns there are ATMs where you can withdraw money in local currency with a credit card. There are limits per withdrawal and a daily limit. This method is therefore unsuitable for larger expenses.
PASSPORT AND TRAVEL PERMITS FOR PAPUA
You need an Indonesian visa to enter the Papua and West Papua provinces. Most nationalities receive a free visa on arrival with a validity of 30 days. The free visa is not extendable. If the 30 days are exceeded, a fee of IDR 1.000.000 for each additional day is to be paid when leaving the country.
The free visa is available at all international airports. These include the airports of Jakarta and Denpasar (Bali). There are no international airports in Papua and West Papua! You must therefore travel to Papua on a domestic flight after you have obtained your visa.
Surat Jalan
The "Surat Jalan" is a travel permit required for travel to remote areas in Papua. The Surat Jalan can only be applied for at a local police station. In Jayapura you can get it from Polda. If you want to arrange the permit yourself, you will need to bring two passport photos, a copy of your passport and a copy of your visa stamp. The fee per person is about IDR 50.000. Normally you will receive the permit the very same day. If you apply during the weekend you may have to wait until next Monday. Either way, you better plan some time for the process.
When do I need to apply for a permit for my trip to Papua?
As a rule of thumb: for less visited areas a surat jalan is usually required.
Jayapura and surrounding areas, as well as Raja Ampat, can be visited without a travel permit. For the Baliem Valley, a permit is required, but here the process has been simplified and the permit is issued upon arrival at Wamena airport. Again, please bring two passport photos, as well as copies of your passport and entry stamp.
For all other areas, check in advance if a travel permit is required.
The conservation fee is a special tax for Raja Ampat. It is comparable to an entrance fee. Every visitor to Raja Ampat must register on arrival. Normally this is done by your tour operator in advance. Individual travellers usually do the registration after arrival at the pier of Wasai and then pay the conservation fee. The fee is IDR 1.000.000,- . As of January 2020, an abolition or a strong reduction of the fee is under consideration.