Tips for independent travellers
Words and photos by Marc Weiglein
I am a passionate backpacker myself and therefore I regularly think about whether and how one can visit Papua as a backpacker.
Papua offers travellers a great variety of different destinations and activities. Each destination has its own characteristics and specific challenges. Unfortunately, many destinations in Papua are difficult to explore as an independent backpacker, the organizational requirements and difficulties are simply too high. A few may be able to cope with the conditions, but for most visitors it is just unrealistic.
Destinations in Papua that I consider feasible for backpacking are Raja Ampat, Jayapura and surroundings, the Baliem Valley, Biak, and Nabire area.
Destinations like Asmat, Korowai, Yali, or Carstensz Pyramid should not be tried as a backpacker if you are not really sure about what you are doing. That's my honest advice.
In short: Backpacking in Papua is not so easy, not everything is feasible, but of course there are various possibilities. The following explanations give general tips and advice, and hopefully provide a good basis for your further preparations.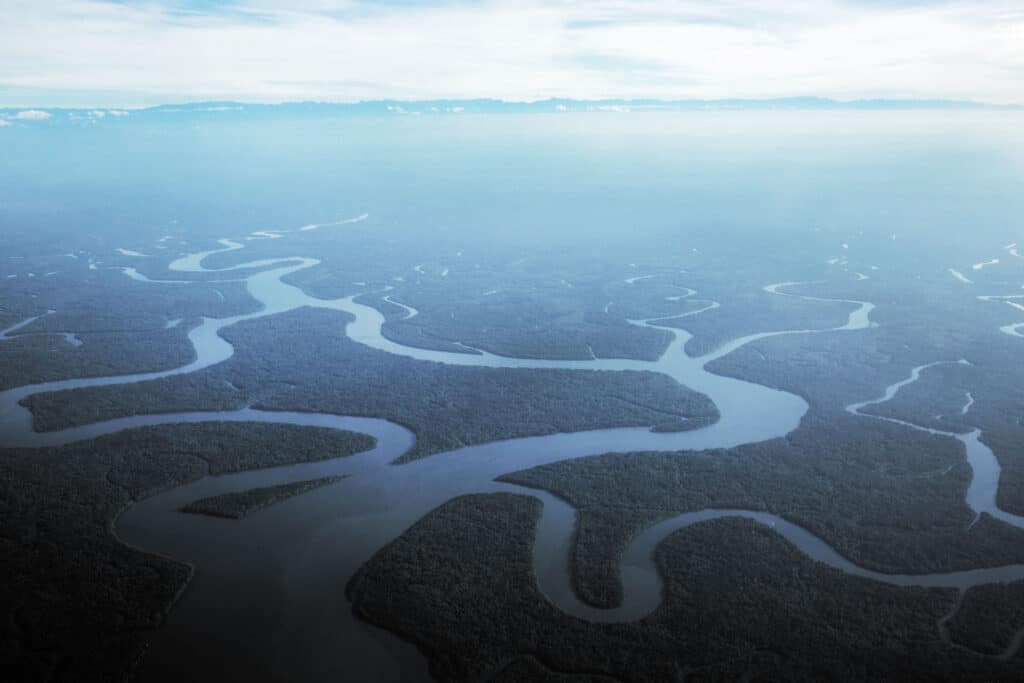 REQUIREMENTS FOR BACKPACKERS
As a backpacker you usually do not join a group, hire a guide, or plan everything in advance. Instead, you organize your trip on site, follow your intuition, and try to organize as much as possible yourself. This usually requires a high degree of flexibility, adaptability, and above all: time. For independent travel in Papua, these requirements are especially true! Those who want to travel Papua individually need enough time and must be very flexible.
A blessing and a curse: the lack of infrastructure
The main difficulty for individual travel in Papua is the lack of infrastructure. What do I mean by this? When you think of infrastructure you first think of roads, airports, public transport etc. And this is of course correct. In Papua, for example, there are relatively few roads, and many road networks are rather "localized". Until today there is no north-south connection and also the road network in the Baliem Valley is more or less a closed system and has no proper connection to e.g. Jayapura, the capital.
Many routes have to be covered by plane and sometimes even by boat. As far as I know, there is not a single boat in Papua that can be booked in advance (Raja Ampat is an exception). For flight connections within Papua it is only slightly better: often tickets cannot be booked and paid online. Also, there are often last-minute changes in the flight schedule, departure times are changed, flights are cancelled etc. The smaller the destination airport, the more difficult it becomes.
But such conditions are not too special, there is a lack of infrastructure in many corners of our world. More serious for every traveller to Papua is the fact that there is no proper tourist infrastructure in Papua. What does that mean?
In the end, Papua – despite its breathtaking nature, its unique exoticism, its boundless possibilities for adventure – is still rarely visited. Almost nobody in Papua "lives" from tourism; there are hardly any guides, hardly any hostels, hardly anyone who speaks English, and the "German Bakery" or the obligatory "banana pancake" is also sought in vain.
Of course that's great! While many destinations are being sold off and merchandised, becoming more and more uniform and therefore more and more trivial, Papua resists these trends and remains as it is: wild and unique.
And one of the most immediate impressions, often experienced by me, is the resulting honesty and sincere friendliness during encounters on site. Since most Papuans do not live from tourism, they treat every visitor as a human being, not as a commodity. This experience is immediate and – in 2020 – something very special. Conversely, this also means that as a visitor you will not receive any special treatment. You can be there, you are welcome, but the red carpet is not rolled out, the door is not held open. For many travellers this is a liberation, and there are quite a few who travel repeatedly to Papua to experience exactly that: to meet at eye level, from one human being to another.
But it also means that you have to find your way around. Papua would not be so unique and untouched if it were easy to travel. The Papuans' idea of time and space is different – not better or worse, but just different. And the lack of infrastructure and tourist facilities requires a high degree of flexibility and personal initiative from every traveller. Those who know what they want and how to achieve it will find suitable assistance. Those who arrive somewhere haphazardly and then expect to be helped will soon end up in chaos and won't get far. If you want to travel on your own, it is therefore important to obtain comprehensive information in advance and to acquire a rough knowledge of possible procedures as well as possible obstacles. On site it is usually too late for this, especially since there is often no Internet or phone service.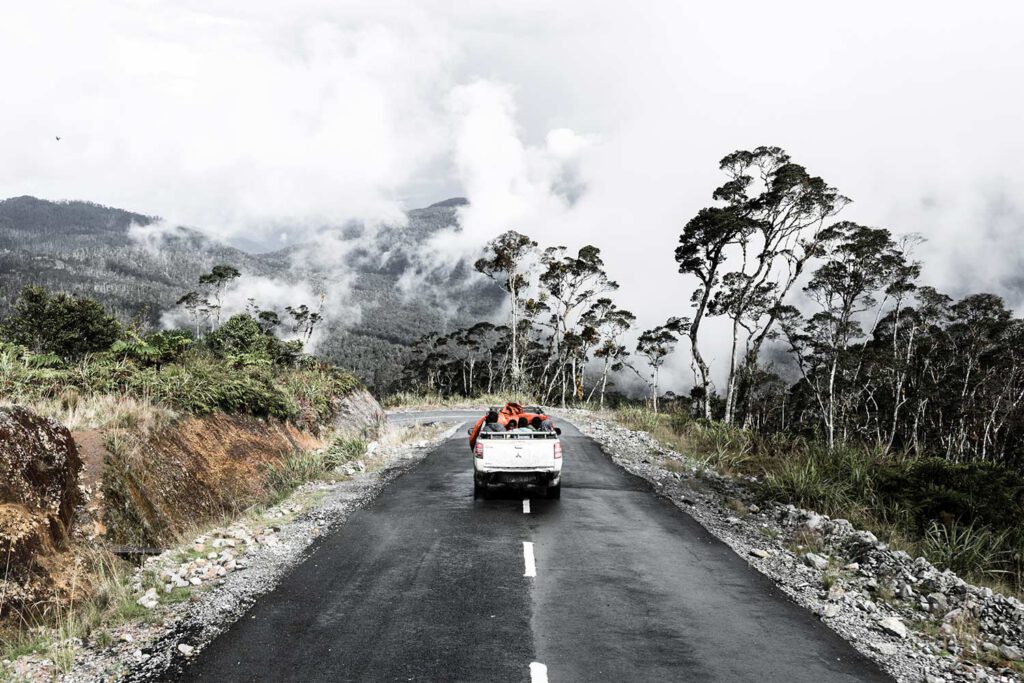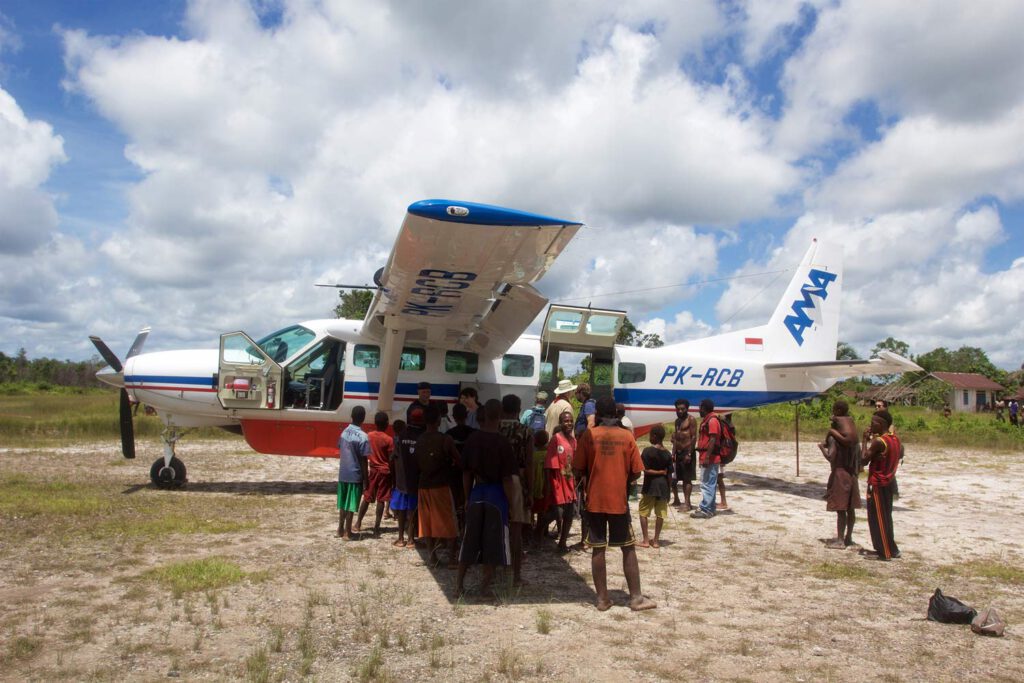 HOW TO GET AROUND
Travelling on the road
As far as travelling by road is concerned, many connections between larger towns are served by public minibuses. In many towns there is a kind of bus station, which is often close to the market place. Markets are usually centrally located and easy to find. Look out for a large group of vehicles and you are sure to find the bus station. There is no timetable or fixed departure times. The final destination is sometimes written on a sign, which is usually placed behind the windshield. But sometimes this information is missing. The situation is further complicated by the fact that stopovers are not displayed. So you should know on which road you are going to drive and which bigger village could be the final stop. In the end, you usually have to ask. Questions should be addressed directly to the driver. The bus leaves once it is packed. Depending on the time of day, this can be fast or take longer. The prices vary depending on the route, time of day, weather, and the general mood of the driver. Most of the times, a reasonable fare is charged, and one should not bargain. It is common for foreigners to pay a little more – you can hardly avoid this, so get used to it.
Travelling by ferry
Travelling by ferry can be an interesting option, but usually this is not the case. The biggest problem is that ferries only operate every 1-2 weeks and tickets cannot be purchased online. If you want to use the ferry, you should travel first or second class. This does not make the trip luxurious, but you have a little more room to breathe and the risk of theft is much lower. There is often a lot of crowding when getting on and off the ferry and you should store your valuables safely and not let them out of your sight.
Most connections are served by the state-owned company PELNI. Pelni offices or agencies can be found in every place where a ferry docks.
Raja Ampat is a special case. There are daily ferry connections between Sorong and Waisai. Most visitors travel to Raja Ampat on one of these ferries, as private speedboats are unreasonably expensive. Tickets cannot be purchased online here either. In the morning (the ticket office opens around 8 am) you go to the counter directly at the harbour and buy a ticket. On the ferry to Raja Ampat the first class is not worth it.
Travelling by boat
For some trips a boat is essential. If you want to experience the Asmat or the Korowai, you have to go by boat. However, it is very difficult to find a good boat with a reliable crew. There are no agencies, no dedicated piers, no online booking. Those who want to look for a boat with crew for such an adventurous trip on their own, need time and patience and must necessarily speak Indonesian. The prices for a boat with petrol can be very high and there is a lot of trickery. Watch out!
Raja Ampat is also an exception for boat trips. In Raja Ampat most homestays can arrange a boat with driver. Often the owner of the homestay will hire a relative to take care of the transfer. The price is negotiated and paid in advance. Such relatively short boat transfers, organized by homestays, are safe and reliable.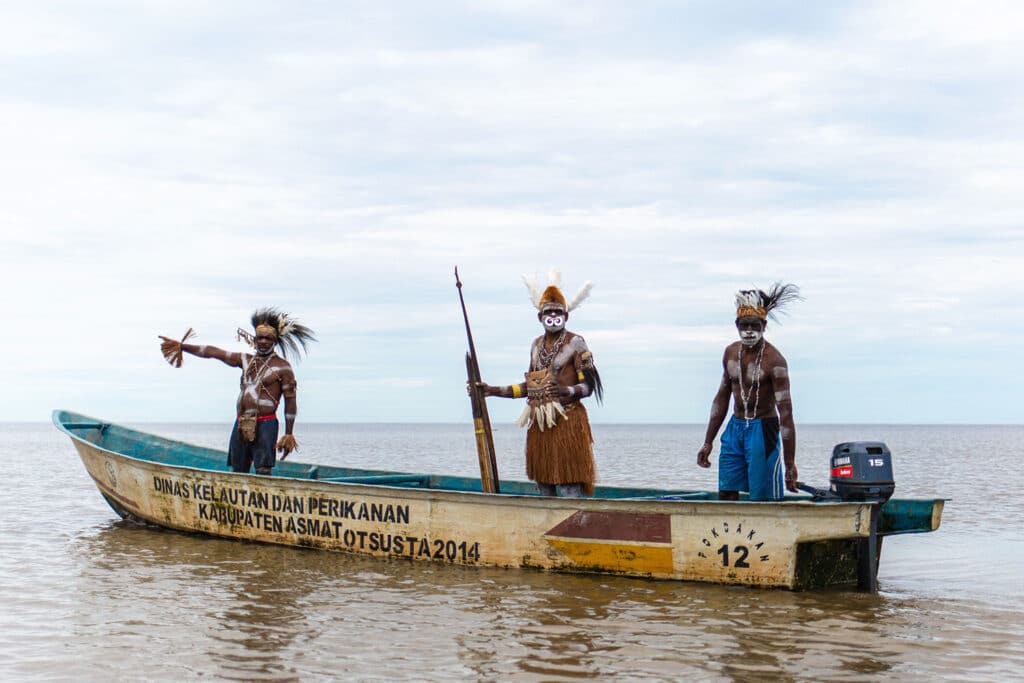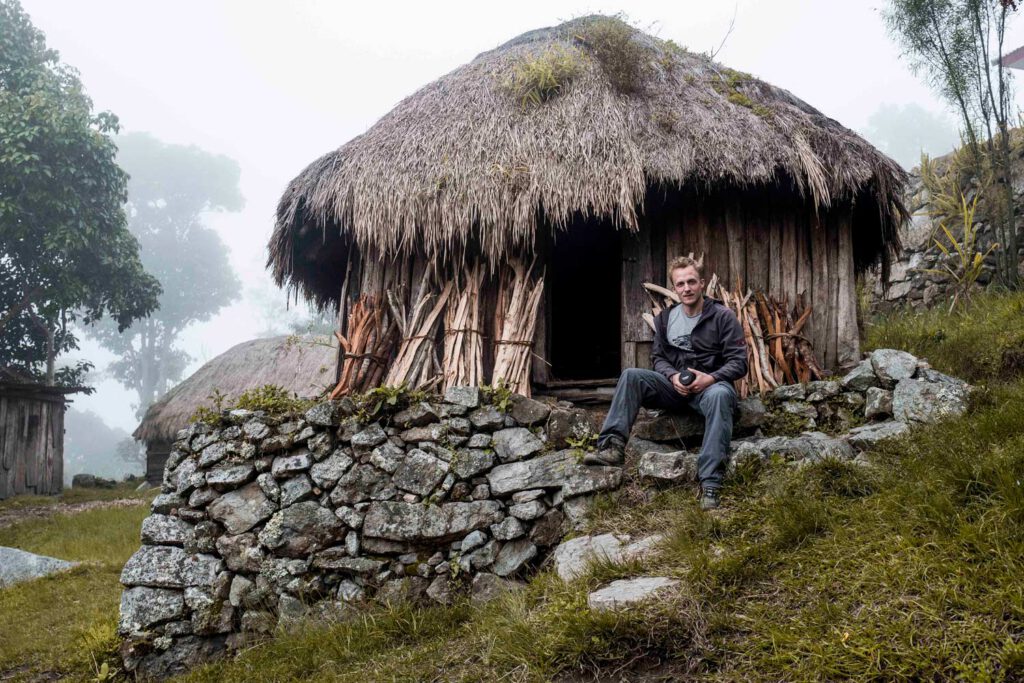 Travelling by plane
Connections between the major hubs (including Jayapura, Timika, Sorong) are offered by major airlines such as Garuda Indonesia or Lion Air and are easy to book. In Papua, even these big airlines can have delays and short term flight cancellations – but fortunately this is rarely the case. For more information read our article How to get to Papua.
It becomes more difficult if you want to fly to small airports. On the highly frequented route from Jayapura to Wamena, for example, flights are often not bookable or payable online, but require booking through a local agent. Also, these routes are usually served by large propeller aircraft and the weather certainly plays a role. When the mountains are hidden by thick clouds, no plane takes off. The common carriers for such "medium-haul" routes are WingsAir and Trigana Air.
If you fly to an airstrip, e.g. from Timika to Agats, tickets can only be booked on site and flight schedules are usually published weekly (!). The planes here are small and there are only a few seats. Common providers for such routes are Trigana Air, Susi Air, and AMA. If you have the time to wait a few days for the next plane, you can cover a long distance in a short time for little money. Those who do not have the time or do not want to take the risk can charter an aircraft. For many airstrips, charters are in fact the only possibility, as a lot of airstrips are not served by regular flights. An aircraft charter is of course great, but unfortunately also expensive: Prices start at USD 3.000,- per flight. This is something for groups or fancy people. For backpackers? No.
Stay overnight with the locals (not in a homestay)
Outside the towns one can always find somewhere to stay overnight. The people in Papua are helpful and almost everyone knows the hardships of being on the road. If you ask friendly, you always get help. To be able to ask, it is of course essential to know the Indonesian language. On my travels I have overnight stayed in countless houses and huts, in kiosks, in churches, schools, even with the police. What sounds romantic, however, is often not very comfortable in reality. The conditions can be difficult. For longer journeys it is therefore recommended to take a tent and some equipment. This will allow you to make camp next to a house, only using the kitchen and toilet of your hosts. If you have used firewood or water during your stay, you pay a small amount of money for that. Usually no money is charged for the overnight stay, but it is more polite to thank the hosts with a modest sum.
What language do I speak in Papua?
Almost 200 different languages (!) are spoken in Papua. For the whole island of New Guinea, the number of different languages is over 300, so there is no need to learn a local language, especially since there is often no learning material available.
For traveling in Papua, the essential language is the Indonesian Bahasa Indonesia. English, on the other hand, is still not very common. Even in the big cities you will rarely meet someone who speaks English. So if you want to travel without a guide, you have to acquire rudimentary knowledge of the Indonesian language. Fortunately, Indonesian is not a difficult language and can be learned quickly.
SUMMARY
If you want to travel around Papua on your own, you should prepare well in advance and know roughly "what is going on". You also need to have basic knowledge of the Indonesian language. Those who do not speak Indonesian need a guide. When there are roads, overland connections can usually be made with local minibuses. Inland boat trips are very difficult to organize, but in Raja Ampat you can easily organize them through the homestays. Flights to smaller airports require some planning or should be arranged by a local agent. Flights to airstrips can only be arranged locally and often can only be done by charter. Outside the cities there is always a place to sleep, but conditions can be difficult. For longer trips you should have a tent with you.
In our blog we provide you with a lot of helpful information about what to read, watch and prepare before going to Papua. Start your research by checking out our other articles and the helpful links we provide.