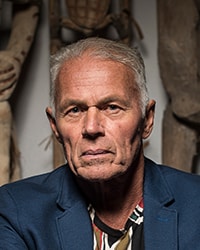 Dr Werner Weiglein
Already in 1979, Dr. Weiglein was adopted by Egidius Soter, clan head of the Beriten Asmat Clan, during a cult ceremony. Since then he is also called "Emenji" which translates to "the one who comes with many heads".
His big passion is to travel. As a 16 year old teenager he already visited Afghanistan and India. In 1982, he took part in a Camel Trophy in Papua New Guinea. After that he was an active member of the Camel Trophy society and often joined the German Camel Trophy team.
Since 1979, his main interest is in the cultures of Oceania, especially in Papua, the Indonesian part of the New Guinea island. Until today, he successfully organised and guided more than 250 expeditions in New Guinea and the Salomon Islands. Many publications for specialized press and books underline his experience and reputation. Furthermore, Dr. Weiglein is co-author of publications by world-famous explorers Heinrich Harrer and Dieter Kronzucker. The physician organised and guided more than 20 TV productions to China, Mongolia, Namibia and especially Papua/Indonesia. With more than 30 tours to the Carstensz Pyramid one can safely assume that he is the current world record holder for tours to this mountain.
Dr. Weiglein serves as president to the German-Indonesian Society of Hessia in Frankfurt. By decree of the Indonesian President, Dr. Weiglein has a life-long right of abode in Indonesia.
Today his major interest lies in a qualified developement of ecotourism projects in Papua and the further development of his cultural and educational projects, such as the Papua Student House, the Papua Museum, and the Indonesian Culture Centre.
As a co-founder of the company PT. Indonesian German Bersatu in Jayapura, Papua, with the conception and organization of The Baliem Valley Resort as well as the company Khans of Steppe Ltd. in Ulaanbaatar, Mongolia he had and has a major influence on the future touristic development in these new target areas.